Vote For Us.
We need your support!
Quantum Sobriety has been nominated for two awards. Could you vote for us? We would so appreciate your help to get QS out to a wider audience so that those that do not resonate with the 12 step programme have access to an alternative; a technique based upon meditation that is already helping many people. The more votes we receive the better chance we have of getting in front of this years judges; including Jo Wood, Janey Lee Grace, Lynn McTaggart, Glynis Barber (one of my childhood heroines in Dempsey and Makepeace!), Zoe Ball and many more.
"We all reached rock bottom and found this glorious group of supportive and non-judgemental people. Be very gentle and kind to yourself, lots of proper self care. It is an amazing and life changing journey. Commit to doing the work (meditation) and all will be well. I joined the group almost exactly two years ago and did not really believe it was possible to be free but my mind was open and i was desperate. Two years on and I'm just shy of two years sober. Loads of love x"
Quantum Sobriety member
We've been nominated in the book AND the programme categories
To vote for us you will need to do so twice = for EACH category
Click this link here
Or on the picture below
There are two boxes to fill in:
1) Your Vote; this is where you should write 'The Quantum Sobriety Book' or 'The Quantum Sobriety Programme'
2) Your Email Address
And THANK YOU in advance for supporting us in this way;
It means SO MUCH to us
Today's Blog….
Scared 😟 or Excited 😀
Now is the time
No more waiting
Why delay the inevitable
For
Simply because you are reading this means that you are destined for happiness, peace and freedom, because that is my core intention; to mirror to you what is within me.
I share honestly and wholly what I have found
And how you can do it too
So
Why delay the inevitable
Why remain scared, when that very emotion can easily transcend into excitement with the direction from others who walk the same path
The answers are waiting
Happiness, peace and freedom is waiting
For YOU 💜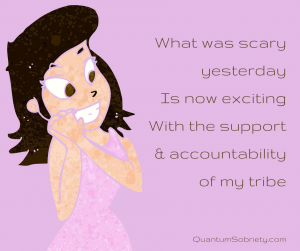 Member Quote Of The Day:
Read here something that has been said by one of the Quantum Sobriety Online Programme members over in our lively private forum:
"It's time Jo. I'm excited to have finally made the commitment. It seemed a good time to launch my commitment to me too. Thank you for your support. I'm very lucky. I'm really feeling it. It's quite exciting actually xx"
 Residential Retreat and Online Member
.