The Balance On The Other Side Of Serious Addiction 🍷
Posted by Jo De Rosa in Blog, Daily Motivation, Quantum Sobriety on July 14, 2019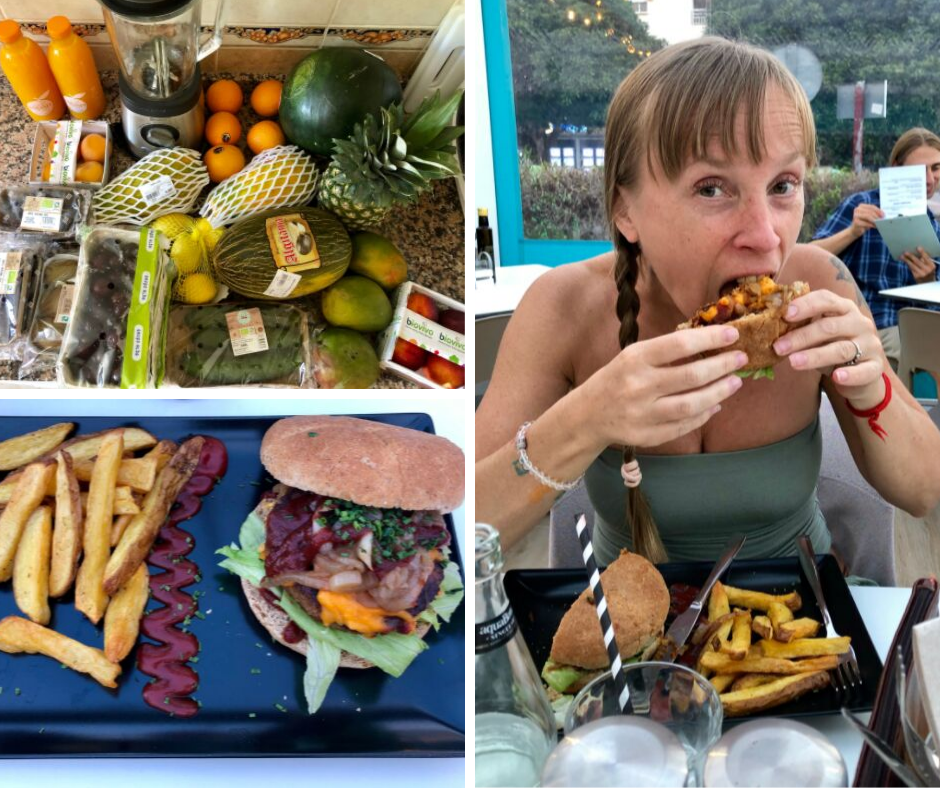 Thank **** I decided to commit to 90% raw for the year rather than 100%
Nine weeks into this journey and I am having SO MUCH fun
Intuitively I want to eat mainly fruit
Physically my body is responding well to high fruit
However
I am 'allowing' myself to eat cooked food IF I feel deprived not to

So here I am in Spain with my parents
Picture top left is the weeks worth of fruit that I purchased from the supermarket on the first day
Picture bottom left is the vegan burger and chips I had on one of the nights we ate out
Picture to the right is how much I enjoyed the 'pea protein' burger! 

The following day I happily got back to my fruit
But the lasting memory of eating out with my family is pure gold
Now of course when tackling addiction we cannot take the middle way like this and;
I will never drink alcohol again
I will never eat sugar again
I will never smoke again
I will never take any kind of drug again

But through the other side of these serious addictions popped a more balanced person
Someone who can now give or take certain foods, but knows where they are most comfortable
I eat now 90% of what my body asks for
And the other 10% is for pleasure
This is a far cry from who I used to be
A true hedonist
All the way through my teens, twenties and thirties I was consumed in pleasure; how could I get high, feel better, have more energy, no matter the cost. I gorged on booze, drugs, codeine, guarana, caffeine, searching for an expansion of consciousness, which I have only authentically found via meditation. 

Today I can feel fruit soothing my being and detoxing the lifelong cravings of pleasure out. I feel my whole system being reset, and after just nine weeks feel so very different. The turnaround from a life based upon service-to-self toward service-to-others is profound; I no longer need to seek pleasure because it is my constant state and I'll talk about this, and how you can get into this state yourself, in more detail in next Sunday's blog.

For now I guess the message of todays writing is that outside of your destructive addictions (sugar, binge-eating, alcohol, smoking, drugs) be kind to yourself, and give yourself a frigging break. 
How can you enjoy life whilst listening to your body? 
How can you bring  B A L A N C E  into your day-to-day living?
How can you squeeze 10 minutes of meditation into your day, without it feeling like a chore?
How can you love yourself more?

Answer those questions
Find that balance
And your life will naturally expand and your experience will be more joyful moment to moment…


Member Quote Of The Day.
Read here something that has been said by one of the Quantum Sobriety Online Programme members over in our lively private forum:
"Had the most amazing time at the IG mini retreat (and celebrated my 10 months sobriety there) A huge thank you to everyone I met and shared the time with, to Carol and Anni for my wonderful therapies, and to Jo and Dom. It has truly the most magical healing energies and is my favourite place in the world to be 💜💫"
Residential Retreat and Online Member
.
.