Daily Motivation 229
Every Wednesday I am sharing some WOW's with you; my teachers; my influences and who I am inspired by.

We are delighted to be part of the team supporting Rajmohan Gandhi's UK visit this week and spent yesterday morning having a private tour of the Imperial War Museum where they currently have a 'People Power: Fighting For Peace' exhibition.
Of course his grandfather was the ultimate freedom fighter and his words,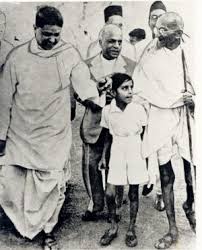 "Be The Change You Want To See In The World"
…totally changed my life when I heard them, and became my mantra for life. The picture is of a young Rajmohan with his grandfather in the 1940's, and the younger man has also dedicated his life to service and both him and his wife are kind, considerate and compassionate beings.
Another one of Mahatma Gandhi's quotes that I love is,
"Happiness is when what you think, what you say, and what you do are in harmony."
This is living from the heart
And I can see and feel that his grandson lives this way too
At 82 he has a very busy schedule this week, but has lived his whole life this way;
✨
In service for others
✨
He said in yesterday morning's interview (click the photo below to watch) that he has not spent his life protesting, instead his efforts have been to address the root causes of war; by working towards reconciliation. And Professor Gandhi is hopeful for the future; he sees the world becoming broader minded, and humanity growing in understanding and compassion.
So the message unfalteringly today is of hope
Believe that life can be what you want it to be
And work towards reconciliation in your inner world first; your own personal fight for peace, for then you really have the magical opportunity of self-em-POWER-ment….
Member Quote Of The Day:
In this section you will read something that has been said by one of the Quantum Sobriety Online Programme members over on the very lively private forum:
"
Thanks to QS – another 3 1st's completed this wknd: – a boozey dinner party, my son's Birthday and Easter – it's definitely getting easier the more time passes. As we entertained 2 day's this wknd – there was alcohol around me and I was even trying to squish a cork back into a bottle of white wine to go into the fridge this afternoon which didn't set off any triggers I am shocked to say!! Huge love to everyone wherever you are on your journey right now
"
J, Online Programme