Daily Motivation 225
When we meditate we become mentally strong
We train our minds to stay present so that eventually even the most juiciest of thoughts easily passes through the mind
The more you do it
The more you get it
And the easier it becomes
Until you get to the point where you can't remember what life was like without it
Strength becomes your middle name and you realise that this internal power is now driving your life; showing up as motivation to be the best you possibly can. I mean, why wouldn't you be?
Personally for me in 2017 I am embarking on a new strength; I want to go somewhere that I've not been before, into physical strength. And this challenge has come from within; because I am mentally strong and ready for the next level of discipline. Just think about any athlete; they need:
Preparation
Discipline
Routine
Training
A plan
And our sobriety is exactly the same
Now I've never been an athlete
I've never won any medals
But I do want to see where I can take both my mind and body this year
2017 has already seen a commitment to be vegan
2017 is already the best year of my life after the dizzy heights of my Scottish retreat
And 2017 is set to be the year that I get crazy fit!My question for you is this,
What are you committing to this year?
What challenge is in place?
Maybe you've already set a goal?
The point here is to get you out of your comfort zone and somewhere new
To expand yourself physically, mentally, emotionally and spiritually
Here is a snippet of what I got up to yesterday during a private session with my yoga teacher, and you can watch a short video of what I was doing on the monkey bars by clicking the picture below or here.
I have a very clear vision in my mind
And I'm prepared to put:
Preparation
Discipline
Routine
Training
A plan
….into place around my fitness, just like I've already done with my sobriety, meditation practice and with the food that I eat (I'm out all day today at Buddhist teachings and prepared all of my food and drinks last night so that I KNOW what vegan food I'll be eating, and healthy drinks I'll be drinking).
2017 is all about the NEXT LEVEL of life
I am ready for it!
Are you?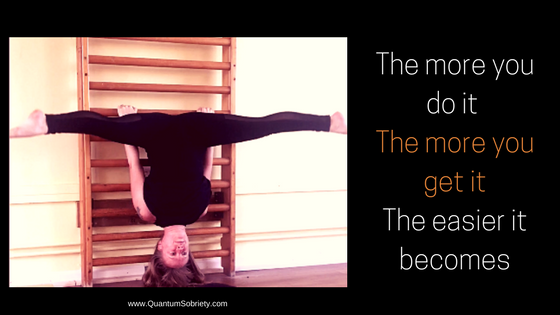 Member Quote Of The Day:
In this section you will read something that has been said by one of the Quantum Sobriety Online Programme members over on the very lively private forum:
"I truly believe that you can "create a reality as if you've never been addicted" and I owe a lot of that to you and the QS program. I do believe that addiction is a choice and, like you, I have visited some dark, dark places too many times in my past.  Now, I see it all as another life.  The truth keeps unfolding and my desire to have the closest and most intimate relationship with myself has never been more exciting and important.  I am glad the darkness of addiction afflicted me, for I would have never found this freedom. Oh, the joy!!!!  I am ready to tell the world about it!!  No shame.  No guilt.  All gifts."
N, Online Programme
Connect with us:
Sign up to our latest news and offers and get Jo's full Daily Motivation email straight to your inbox each morning:  www.eepurl.com/bPE1gH
Facebook:  www.facebook.com/QuantumSobriety