Daily Motivation 210
Following on from yesterdays blog about the strangeness of some wanting to get to the point of being able to have 'just one', I wanted to share the following conversation we had here on retreat this week,
You wouldn't have 'just one' glass of bleach; it would be ridiculous
You wouldn't have 'just one' cigarette; why would you bother?
You wouldn't have 'just one' hit of heroin; for you know it is doing you no good
You wouldn't have 'just one' bite of a dishwasher tablet; what a crazy thing to do
So why would you want to have 'just one'  drink of a toxin? Or one bite of dis-ease forming cake?
It's like there is one rule for some and another for something else.
We have been brainwashed to believe that there is pleasure to have from 'one glass' of wine, benefit even; how ridiculous and how dangerous for our media and medical professions to be saying that.
It may feel a struggle to be the first to do something but:
➜➜➜ Many just don't feel the call of freedom yet ⬅︎⬅︎⬅︎
Not you though
You feel it in your heart
Truth is tugging you to question your life and what you've always been told/taught
So don't let the mainstream pull you back, rather lead the way into this amazing new emerging world….
Get focused on Friday 
What are you going to put in place today to ensure an amazing weekend? I asked this last Friday and one of my clients visioned how she wanted to feel on Sunday night and used this as motivation all weekend. Read below what she posted on Sunday night and decide NOW TODAY how your weekend is going to pan out….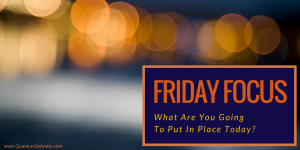 Member Quote Of The Day:
In this section you will read something that has been said by one of the Quantum Sobriety Online Programme members over on the very lively private forum:
"Well here we are, Sunday evening and hurrahhhhh I am where I visualised myself being right now, sober and sat in my pjs after a really nice mothers day. Mothers days in past years were great but definitely a licence to drink as much prossecco as I liked (which was a lot) but today was different. I had done the visualisation on Friday of where I wanted to be at the end of the weekend and it's made this weekend quietly focussed. I would really recommend doing this if you're due to go into a trigger situation, such as a night out or stressful family visit, before you go visualise how you see yourself at the end and keep checking back to that – I found it to be a really low key but powerful thing to keep present with me so I thought it might be helpful for others if I shared this. Hope everyone's been able to have a weekend of clear presence and that you're feeling good xxx"
L, Online Programme