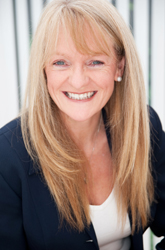 Annie works as a Biodynamic Psychotherapist, Counsellor and Passion for Life Coach. She has also worked in business for both large corporations and smaller entrepreneurial concerns.
The Biodynamic work incorporates your body AND your mind. If there is something on your mind, it could be affecting you physically, and if you're in physical discomfort, it may be affecting your thoughts, moods and your general appetite for life. It is based on the main principle that the psyche's true potential arises from the alignment of the body, mind and spirit. Treatment includes one to one counselling which can incorporate Biodynamic massage as an aid to the psychotherapeutic process.
The Biodynamic approach aims to bring you relief from symptoms of pain and illness and return you to a state of homeostasis (or steady state). This in turn has the potential to lead to self-regulation, which supports the processes of creative, cognitive, emotional, spiritual health and wellbeing. You can start to feel fantastic J.
So what happens in a Biodynamic Session?
Every individual is different, unique and wonderful in their own way. There is no prescriptive way to treat you other than working with whatever you bring to your session. It's my job to provide an environment in which you can feel safe. If you want to come and talk that's fine. You may find that it's not until you start talking in this safe, therapeutic space that you utter words you may never have spoken before. For example, what about all the things you never said or were never allowed to say? What have you been holding back, and what back problems have arisen because of it? How are your shoulders? Do you carry the weight of the world on them? Recurrent chest infections? What is it that you really want to get off your chest? Are you anxious, tense, stressed or depressed?
Any psychological distress can have an impact on your physical body. This is exactly what the Biodynamic massage methods were developed for: to bring you relief from painful symptoms and support you to become conscious of how these symptoms may be related to your behaviour (thoughts, belief systems, relationships etc). When you know what's going on you can make it better.
Annie have worked with cancer patients and their friends and families; blind and partially sighted people, athletes, people recovering from a stroke; those with eating disorders; addictions, depression and other related conditions.
"On a personal note, friends and family are hugely important to me, as is laughter, great food and wine, fitness and a love of the outdoors. Literature and poetry are also essential companions.

I love to sing and make music and enjoy hearing and telling a good joke.

Like most of us I have been touched by various personal challenges, but I believe it's not the things that happen to us that determine how we stand in the world, but how we deal with them that truly matters. It's that ability to self-regulate which can enable you to return to homeostasis (steady state) and live a rich and full life. The Biodynamic approach embraces all of you … body, mind, spirit and can equip you with some easy tools to get the best out of your life."