For too long I tried to be someone that I wasn't; to be popular, liked, prettier, thinner, happier, healthier, fitter. I straddled two worlds for many years as a yoga teacher by day and party animal by night, with my double life nearly driving me crazy for fear of being caught out. I tried to be everything to everyone, a different mask for different sets of friends. Each expecting something from me so I ran around in circles trying to please everyone. Sound familiar?
I felt so disconnected to myself that I didn't know what façade to show to the world, and this is what we are now beginning to understand in the world of addiction.
The opposite of addiction isn't sobriety, it's connection.
Excerpt from the Quantum Sobriety book, out very soon.
Click here to pre-order and get one of the first 100 signed copies!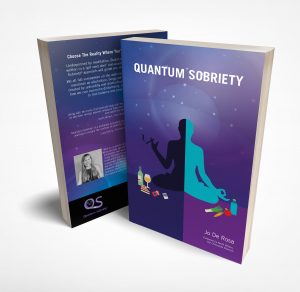 Member Quote Of The Day.
In this section you will read something that has been said by one of the Quantum Sobriety Online Programme members over on the very lively private forum:
"Without alcohol I step into my real, essence self. I can reach my full potential spiritually. I can take part in my life, manifest dreams and choose not to drink just because I feel sad, elated, fucked off, lonely, happy … or just because I feel. Alcohol really isn't the problem. How I did life, was. I missed myself when I drank and each day I make it up to myself, I feel love and compassion for myself. I won't abandon myself today.
Sending a huge thank you to you all. I am no longer alone and that is precious. 🙏"
L, Residential Retreat and Online Member
The QS Tour
Oxford TODAY 
12 Norham House
Friday 11am – 1pm
It's not too late to book your place!
QS Guide Sophie will be with me on the Oxford leg of the tour, sharing her own journey of transformation from stuck to freedom.
Hertford TOMORROW
The Secret Space
Saturday 2pm – 4pm
It's not too late to book your place!
QS Guide Theresa will be with me, sharing her own journey of comfort eating and sugar addiction.
Dates, Venues and Ticket Links
Friday 26th January – 11am – Oxford – Get your ticket here
Saturday 27th January – 2pm – Hertford – Get your ticket here
For information on venues and dates you can also visit:
www.quantumsobriety.com/uk-tour-2018/